HIFU is one of today's most popular treatments, and its meaning, function, and effectiveness often need to be clarified. Keep reading to know the answers to all your questions!
High-Intensity Focused Ultrasound (HIFU), aka "lunchtime facelift" or "non-surgical facelift", has grown to be one of the most popular procedures for skin lifting, firming, and tightening. Loose skin resulting from gravity and aging is tightened and set using HIFU, a noninvasive and comfortable alternative to face lifts. It stimulates collagen synthesis using ultrasonic radiation, giving the skin a firmer appearance.
The most well-known application of HIFU is the management of malignancies. 2008 Trusted Source saw the first mention of HIFU used for aesthetic purposes. The Food and Drug Administration (FDA) authorized HIFU for brow lifts in 2009. The FDA approved the device in 2014 for treating décolletage (the upper chest and neckline) lines and wrinkles. HIFU has been proven secure and efficient for elevating the face and smoothing wrinkles in several modest clinical studies. Without the risks of surgery, patients could experience improvements a few months following treatment.
Although the treatment also covers body contouring, lifting, tightening, and general facial rejuvenation, these are "off-label" uses for HIFU. This means that the FDA has yet to approve HIFU for these uses. More information is necessary to determine the most suitable candidates for this operation. HIFU is a promising procedure that could eventually replace facelifts, particularly in younger patients who don't want to deal with the risks and lengthy recovery periods of surgeries.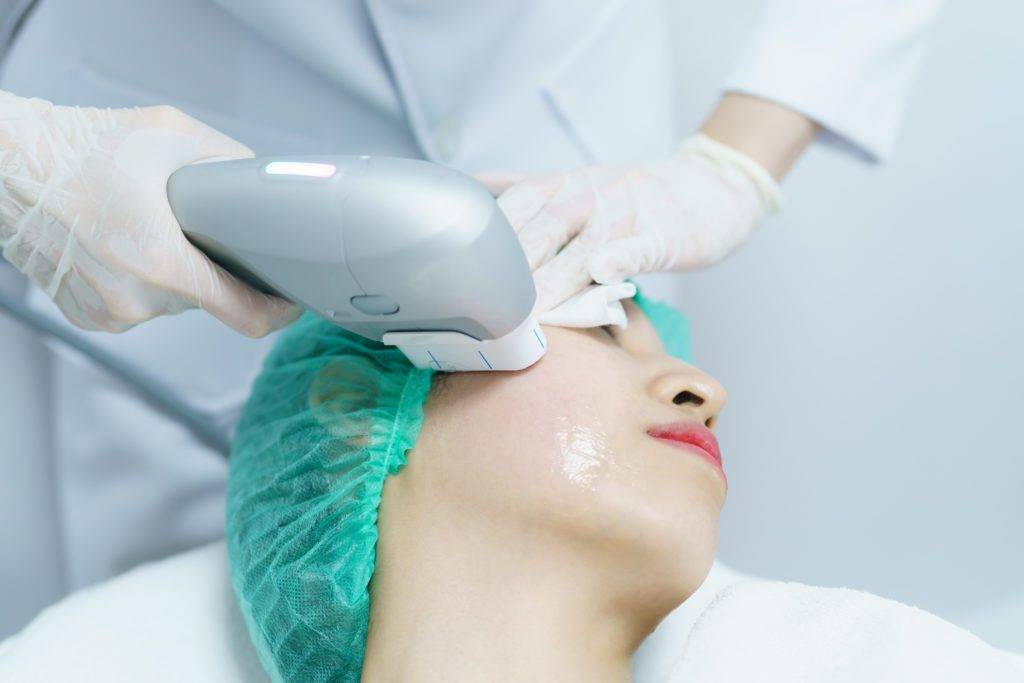 HIFU has many aesthetic benefits, including:
Wrinkle reduction

Tightening sagging skin on the neck aka turkey neck

Lifting the cheeks, eyebrows, and eyelids

Enhancing jawline definition

Tightening of the décolletage

Smoothing the skin
Promising studies prove that after 12 weeks, HIFU dramatically increased the skin elasticity of the thighs, lower abdomen, and cheeks. In a more extensive trial with 93 participants, 66% of individuals who received HIFU treatment felt that their face and neck looked better after 90 days.
What does HIFU feel like on the skin?
During a HIFU operation, you can feel a little uncomfortable. Some people say it feels like light prickling or tiny electric pulses.
If you're concerned about pain, you can ask your doctor to prescribe a pain-relief medication in advance. You can have slight redness or swell right after the procedure. Still, these side effects should go away throughout the following few hours.
HIFU for face procedures:


Before undergoing a HIFU procedure, no specific preparation is required. Before starting treatment, ensure the target region is free of all cosmetics and skin care products.
Here's what to expect at your appointment:
1) A physician or technician first cleans the target area.
2) They may apply a topical anesthetic cream before starting.
3) The physician or technician then applies an ultrasound gel.
4) The HIFU device is placed against the skin.
5) Using an ultrasound viewer, the physician or technician adjusts the device to the right setting.
6) Ultrasound energy is delivered to the target area in short pulses for roughly 30 to 90 minutes.
7) The device is removed.
If additional treatments are necessary, your doctor will schedule the next treatment. You might experience heat and tingling during the treatment. If it causes pain, you can take a painkiller. After the treatment, you can immediately return home and continue your regular daily activities.
If carried out by a skilled and qualified practitioner, HIFU is regarded as being relatively safe.
The most incredible thing about this course of treatment is that you can return to regular activities as soon as you leave the doctor's office. There might be a tiny bit of redness or swelling, but it should go away fast. The treated region may continue to feel slightly tingly for a few weeks.
Conclusion 


HIFU is a safe, efficient, and noninvasive method of tightening the skin on the face, making it difficult for a surgical facelift to appear better. One need not deal with scars, incisions, or healing periods. Additionally, HIFU is much less expensive than a facelift. Three months after their final treatment, most patients start to notice the full outcomes. HIFU is an excellent alternative to a surgical facelift if you seek a quick, painless, and noninvasive procedure.
Naturally, HIFU is not a magical cure for aging. You might need to have the surgery repeated in one to two years as the natural aging process takes control. The technique is best suited for people with mild-to-moderate skin laxity. HIFU might not be able to get rid of wrinkles and skin sagging if you're older and have more severe cases of both.